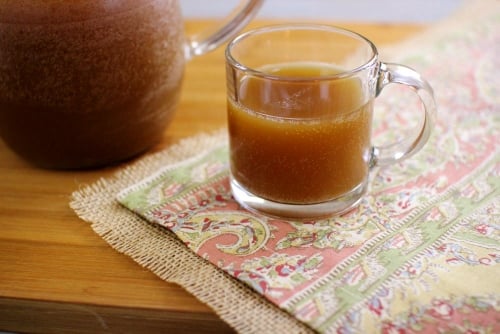 "Last year I was treated to real Russian kvass. I liked it very much. I would like to make it for the household members, but I lost the recipe".
Admittedly, summer is - so far - cool, but let's hope, that the heat would break out and the acid would be useful.
Here is the recipe for this drink, which not only perfectly quenches thirst, but it also promotes good digestion.
Ingredients for 4 liters of acid: 25 dkg of wholemeal bread, 0.5 dkg of yeast, 20 do 25 dkg of sugar i 4 liters of water.
Dry the bread for biscuits, pour boiling water over them and leave for a few hours (preferably for the night). Stir the soggy mass and strain. Heat the liquid slightly, add yeast and sugar. You can also add fruit juice. Put the received must in a warm place for one day (starts to ferment and foam). Then pour the acid into clean bottles, stopper tightly and tighten with string, so that the corks do not pop out. Place the filled bottles in a cool place for three days and the acid is ready to drink.
By pouring acid into bottles, you can put 2-3 raisins into each bottle. They give the drink a special aroma.